Facilitating the Nordic Applied Arts
Cultural Connections CC Gallery's
Programme for the next year is now well advanced
GALLERY UPDATE
The wheels are slowly turning again for CULTURAL CONNECTIONS CC after a horrendous move late 2014 after 27 years in one place. Thus CULTURAL CONNECTIONS CC will not be exhibiting at COLLECT 2015 after an uninterrupted stretch of more than 11 years.
CULTURAL CONNECTIONS CC next Exhibition will be at ARTINCLAY at HATFIELD HOUSE from 3-5th July 2015, its 16th year of exhibition in the NORDIC TENT.
The NORDIC TENT will this year present an Exhibition of classic vintage and classic contemporary ceramicists with the 20TH CENTURY FOCUS being on Danish ART DECO a period which perhaps was less sharply defined in Denmark at the time as in other countries, but which in Denmark fed into the world famous SCANDINAVIAN MODERNISM, still influential today. Examples of Danish Art Deco work will be shown.
Attending artist this year will be DORTE VISBY (Danish) , a veteran of ARTINCLAY NORDIC TENT , an artist whose unique work is known and collected by many both in Britain and The USA having participated in many of Cultural Connections CC international Exhibitions.
AILA SIMPSON (Finnish) another returning artist to the NORDIC TENT much appreciated and collected for her astounding colour palette and unusual use of material and form.
New to the NORDIC TENT is JOAN G KRISTENSEN (Danish) with her beautiful simple design forms fused with the colour of the surrounding nature of the North of Jutland. And last but not least LAILA STENDERUP (Danish) Raku fired porcelain applying a unique technique to the surfaces of her work on loose and organic forms .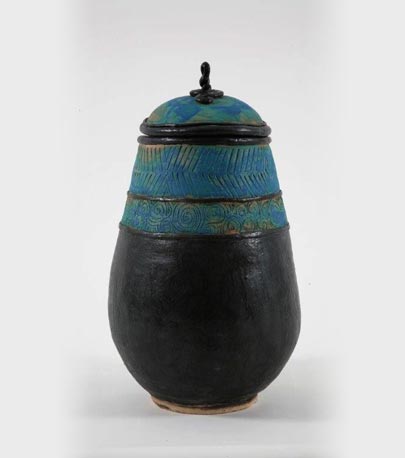 aila simpson